Capture Ink Signatures in your Web Forms: Hand Written Signatures from Desktop and Mobile Devices
September 8th, 2011
Ink Signatures enable you to capture the hand written signatures of your web form users and to save these with their form submissions.
Easy: Users can employ a mouse or stylus on desktop or laptop computers; a stylus or their finger on a mobile device
Compatible: Works with all major web browsers as well as iPhone, iPad, and Android-powered mobile devices.
If you would like customers to actually sign their name to your web form, rather than merely checking a "checkbox", now you can — and it is easy with the LuxSci SecureForm service.
Example Web Form with Ink Signature Box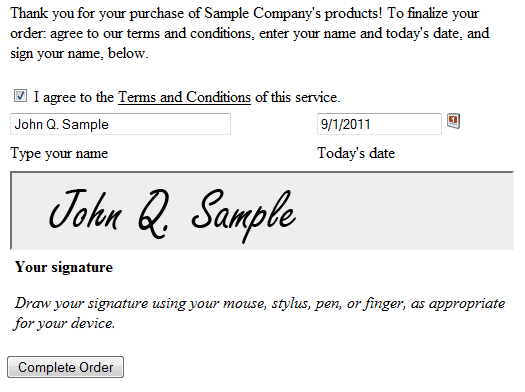 Why use Ink Signatures?
Easier than Digital Signatures!
Ink Signatures differ from "Digital Signatures" where something is cryptographically signed by the end user. Use of digital signatures requires special software and requires that the end user have this software and the capability to encrypt content. There is a significant technical and conceptual barrier to the use of digital signatures with web site forms.
Better than a Checkbox!
Many web sites (including LuxSci.com) use a check box to signify agreement. This is technically a legally binding action. However, use of a checkbox is "weak", because:

It is hard or impossible to prove exactly who checked the box
The checking of a box can technically be forged

For these and other reasons, using a checkbox as a "digital signature", while simple, is not recommended in places where you need stronger proof of identity!

Case In Point: If someone buys something from you, paying with a credit card, and you do not have a written signature from them authorizing this, then you have no defense if they "charge back" the money. With their written signature, you can prove who ordered it and stop the "charge back".
User Friendly and Familiar!
An Ink Signature is a box you can put in your web form where your user can sign his/her name by:

Drawing it with a mouse
Drawing it with a stylus and a drawing pad
Drawing it with a finger or stylus on an iPad, iPhone, or Android-based device.

When the form is submitted, you get this signature as a digital image.
Special Features of Ink Signatures
Ink Signatures include:
Multiple signatures per form
JavaScript API for interacting with the signature areas: reset/clear, lock/unlock, validation, etc.
Format the signature into a GIF, JPG, or PNG file for you
Annotate the signature image file with a custom caption.
Append the signature images to re-filled PDF templates
Insert the signature images into re-filled HTML templates sent via email.
Use CSS and other methods for customizing the look and feel of the signature areas
Create signature areas dynamically, i.e. for use with AJAX forms.
Ordering
To use Ink Signatures, you need the LuxSci SecureForm service with the "Ink Signatures" add on.  This can be purchased on our site when ordering a new account.  Existing accounts can add "Ink Signatures" and "SecureForm" using their Account Upgrade tools.