New "Mobile Mode" for PDAs and Smart Phones
September 8th, 2009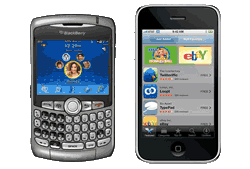 LuxSci has offered an "Xpress" WebMail portal for many years.  The portal is fast, simple, and works with most devices because it does not use any JavaScript or cookies, and uses few images.  The Xpress portal is good for security, privacy, and access from legacy devices, as well as over very slow connections.
However, the mobile device landscape is quickly changing.  Starting with the iPhone and its full-featured Safari web browser, to the Android, the Palm Pre, and the availability of browsers like OperaMini on many phones, it is now the case that many "cutting edge" phones actually have fast web browsers that fully support JavaScript, AJAX, CSS, and broadband — all the technologies formerly the purview of the desktop.  Their major drawback, however, is still the very small screen. Many of these browsers work perfectly well with most web sites, including LuxSci's full-featured WebMail portal; however, it can be problematic and painful to use and navigate sites designed for large displays on these device's small screens.
Enter LuxSci's new "Mobile Mode".  Mobile Mode is a new feature of LuxSci's regular WebMail interface that is available when it detects that you are accessing it using a mobile device, such as an iPhone.
When "Mobile Mode" is enabled, supported pages of the LuxSci WebMail interface will be rendered in a way that looks and works well on small, narrow mobile devices.  These pages will still use cookies, AJAX, JavaScript, and all other regular technologies of the regular WebMail interface — they are now formatted for small devices.
With this initial release, Mobile Mode has been enabled for the following members' pages:
WebMail Login
The Welcome Page
All user configuration and administration pages
Additional pages will be updated and these pages refined to support Mobile Mode even better in future releases.  LuxSci intends to expand its Mobile Mode and Widgets concepts in the coming months to make use of LuxSci on mobile devices fast, natural, and customizable.
The Welcome Page, which can be completely customized using LuxSci Widgets to display task lists, calendars, custom widgets, note pads, etc., will be displayed in a single column in Mobile Mode.
With Mobile Mode on and our favorite Widgets included on the Welcome Page, we can access our Calendars, Tasks, To Do lists, and Notes very quickly and easily via mobile phones — no synchronization needed.
LuxSci's new To Do List /Task List Widget is ideal for access "on the go" — as one can quickly and simply view, add, delete, mark complete, and change the priority of items.  It's as easy to use as a native iPhone application.  The "Notepad" note taker is also extremely useful for viewing/editing notes on the road and on your computer — without synchronization.