Monday, January 27th, 2014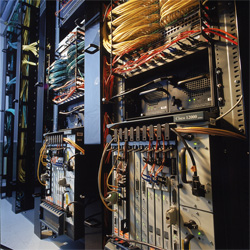 LuxSci is a small and efficiently run company that is focused on and specializes in premium email services.  While we do not have "our own" data centers like some of the "big boys"; we utilize the services of one of the most respected and reliable managed server providers around — Rackspace.  We have been with Rackspace for 13 years. Prior to that we tried out a few of the cheaper providers and found that the support and/or the quality of the hardware and network was not up to our standards.  Rackspace is like an extension of our IT department, helping us to provide the most reliable and redundant services available.
One of our long time clients has remarked that we have a "formula for success" that we shouldn't change.  We attribute this to the combination of our software, our people, and our infrastructure. In this article, we'll discuss how LuxSci utilizes Rackspace and how our software and support solutions are complemented and enhanced by Rackspace's reliability, security, and support.
Read the rest of this post »