Send a Secure Email to Anyone
January 8th, 2009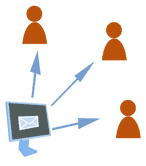 As a healthcare provider, business owner, or educator, you need a way to communicate with clients, patients, customers, or colleagues who assume or require privacy and confidentiality of information. This may be a legal requirement for you as well. You need to be able to send and receive information securely, quickly, and easily.
Using LuxSci's SecureLine Escrow service, you can send emails safely to anyone, regardless of their email provider.
o Send secure emails to anyone with an email address
o Receive secure replies
o Send and receive secure attachments
o Do it all from your existing email program or WebMail
What is SecureLine Escrow?
SecureLine Escrow is a simple method to ensure that your email communication is protected. Using a combination of encrypted storage and password-protection, SecureLine Escrow keeps your messages private and safe.
Who can receive these emails?
When we say anyone, we mean anyone. As long as the recipient has an email address, you can send secure emails using our Escrow system.
What happens to replies?
Replies sent through the SecureLine Escrow system are automatically secure. Because of this, you can be sure that all communication is protected. Attachments also work with this form of security, and require no additional steps to send.
What is the learning curve?
SecureLine Escrow is very easy to use, and is intuitive for those who have some general experience with email and the Internet.
How does SecureLine Escrow work?

The LuxSci user specifies a secret question and answer for a recipient. These pairs of questions and answers can be pre-specified, or can be set during email composition. Default questions can also be used for every message, regardless of the recipient. The question and answer should be known to the recipient.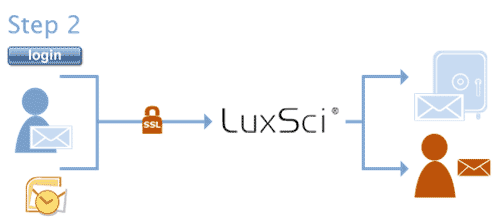 | | | |
| --- | --- | --- |
| The LuxSci user sends an email, through either WebMail or an email client of choice. | LuxSci stores the message in a secure database for a configurable time period. | The recipient is sent a notice that an email is waiting. This contains a link and password. |

The recipient clicks the link, then enters the secret answer and the password. The recipient can view, download, and/or reply securely to the message.
How do I get SecureLine Escrow?
SecureLine Escrow is a part of the Luxsci SecureLine end-to-end email encryption service, which also supports technologies like S/MIME and PGP for email encryption. To use SecureLine, you simply need to include "SecureLine" when ordering your LuxSci package, or use your "Upgrade Account" tool (if you are an existing client) to add SecureLine licenses to your account that you can then assign to your users.
Please contact LuxSci sales or support if you would like assistance or have questions.
See Also