iPhone: The Ultimate Mobile Email Client?
January 21st, 2009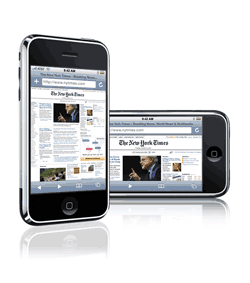 The iPhone from Apple is an amazing Smart Phone, if not a mini personal computer in itself.  We at LuxSci have been using iPhones since they were first available in 2007 and we have optimized our Xpress WebMail portal with a mobile-centric interface inspired by the iPhone and come out with MobileSync push email and contact/calendar sync services that work beautifully with iPhone and other mobile devices.  Many of our clients use an iPhone or other Internet-enabled mobile device with our email services. The time seems right to share some of our knowledge and experience with iPhones.
About the iPhone, iPod Touch, and iPad
The iPhone4, iPhone 3G, the original iPhone, the iPod Touch, and the iPad can all access Internet email using either POP or IMAP services; they can also send email messages via SMTP (They can also use an "Exchange" style account such as that used by MobileSync). These devices all use the same software and thus have the same configuration options and features; the only differences are the means by which they can connect to the Internet. All can connect to a wireless router or hotspot. The original iPhone can also connect via the slower cellular "Edge" network (when a wifi connection is not available). The iPhone 3G, iPhone4, and iPad can additionally connect via the faster cellular 3G network.
The iPhone and Web-based Email
The iPhone includes a very good Safari web browser that can be used to access web-based email services that are compatible with mobile devices.  By this we mean that the interfaces are not too large, heavy, and complex to be usable on an iPhone.  Like LuxSci's Xpress Mobile WebMail Portal, such interfaces are fairly simple, concise, narrow, and very user friendly.  Such interfaces often allow you to perform all the actions that you could do using the iPhone's email program, and more.  If your email provider (or corporate firewall) is not granting you POP or IMAP access to your email, such a web-based alternative is an excellent fall back.
The iPhone Email Program
iPhone's built-in email program, a scaled back version of Apple's Mail.app, is quite good and can be configured to securely use almost all of the email services that we offer to our email hosting clients.  I.e., you can do almost everything with an iPhone that you can do with a regular desktop email program, and it offers comparable security. Using your iPhone email program, you can access your Internet email accounts using IMAP or POP and can send email messages using SMTP.
Good Security!
One very nice feature is that, while you have the option to use secure or insecure connections for each of these protocols, the iPhone configures itself for a secure connection by default — you actually have to do extra work to disable the SSL/TLS security options.  This is notable, especially since it is common to be checking your email in an untrusted wireless hotspot where use of SSL (or a VPN) is essential.
Furthermore, we have tested the iPhone's email program and Safari web browser and found that they will use AES 128-bit encryption when making SSL connections to email servers and web sites.  This is not the absolute best encryption in general use (that would be 256-bit AES), but it does use the excellent AES technique with key lengths that provide very good security — better than you would get using Internet Explorer or Windows XP.  Apple probably did not use the 256-bit AES technique as a compromise to get better speed at the cost of a little security (Microsoft does that too).
Of course, there are many other steps to take to really ensure that your iPhone is setup for good security and privacy.  See: iPhone Security Apps and Configuration Tips.
Compatible with Server-Side Inbound Email Tools
Because the iPhone accesses your email only after it has been delivered to your folders, its use is completely compatible with any kind of server-side service that processes email before it is delivered to you. At LuxSci, this includes:
Basic and Premium Email Filtering for spam and viruses
Use of custom user-created server-side email filtering rules
Archival of all inbound email messages
Automatic decryption of PGP- or S/MIME-encrypted email message (for use with SecureLine)
Auto-responders and message forwarders
Making backup copies of inbound email and email stored on the server.
Push email with Exchange
An "Exchange" account on an iPhone allows you to have "Push Email".  I.e. email, calendars, and contacts can be automatically synchronized between your iPhone and your Exchange server.  Additionally, you get updates very fast and all this takes very little battery power.  See also Premium MobileSync for LuxSci's Exchange-compatible sync service for the iPhone.
Checking Email with POP and IMAP
These are standard services for accessing your email and do not require a more expensive Exchange-style account.  The iPhone's email program
Permits the use of alternate POP and IMAP ports so that you can access your email even if blocked by a firewall.
Sets up POP to "Never" delete messages from the server by default, so that you do not accidently suck all of your email from the server onto your iPhone, where it is no longer accessible to you via WebMail or your normal email program.  We recommend keeping this default unless the iPhone is the only place where you check your email.
Use of IMAP is preferable to POP when you have many messages in your INBOX, when you need to access email in folders other than your INBOX from your iPhone, when you would like your sent email messages saved on the server, or when you would like to be able to delete messages from the server using your iPhone.
Unfortunately the non-standard "IMAP PUSH" protocol that the iPhone uses is not currently supported by LuxSci, and the iPhone itself does not support the IMAP IDLE standard, either. However, it is easy to configure the iPhone to automatically check your IMAP email every few minutes, or you can check it manually as needed.  If you really need your email fast, you need to use a "Push Email" compatible system like the Exchange-style accounts described above.
Sending Email with SMTP
The iPhone works great with LuxSci's SMTP services for securely sending outbound email messages. It even allows for the use of multiple SMTP servers; and the iPhone can be set to automatically try the alternative SMTP servers if the default server does not respond.  Because the iPhone supports alternate SMTP ports, the iPhone is compatible with all of LuxSci's special outbound email processing services, such as:
Archival of all outbound email
Automatic encryption of outbound email messages using SecureLine
Scanning outbound email for specific kinds of content
Restriction of what addresses to which users should be allowed to send email
Automatic addition of taglines and signatures to outbound email messages
Using alternate ports for sending email in cases where your ISP or firewall is blocking the standard ports
Anonymizing outbound email so that your recipients are unable to know the location from which you are sending your email, or even that it is coming from an iPhone.
In Conclusion
The iPhone's email program is very robust and the security very strong. If set up correctly, an iPhone is compatible with LuxSci services even if:
All sent and received email needs to be archived
All connections need to be secured using SSL or TLS
Copies of sent email messages need to be kept on the server
Disclaimers need to be added to all outbound email messages
AES encryption is required (128-bit or better1)
You need to be able to send email using alternate ports
All of your server-side inbound email filtering rules need to be applied
You need end-to-end email encryption using PGP, S/MIME, or Escrow.  This can be done from an iPhone using the automatic encryption-on-send features and automatic decryption-on-receipt features of LuxSci.
So, relax and enjoy your iPhone!
Tomorrow we will be posting our list of iPhone tips and tricks.
1 256-bit AES encryption is possible with the iPhone, but only if that is all the server supports.  This would imply a dedicated server designated for these kinds of ultra-secure connections only.