January 27th, 2014
LuxSci's State-of-the-Art Data Center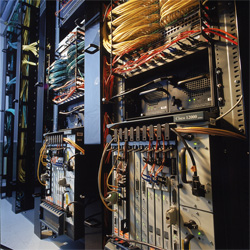 LuxSci is a small and efficiently run company that is focused on and specializes in premium email services.  While we do not have "our own" data centers like some of the "big boys"; we utilize the services of one of the most respected and reliable managed server providers around — Rackspace.  We have been with Rackspace for 13 years. Prior to that we tried out a few of the cheaper providers and found that the support and/or the quality of the hardware and network was not up to our standards.  Rackspace is like an extension of our IT department, helping us to provide the most reliable and redundant services available.
One of our long time clients has remarked that we have a "formula for success" that we shouldn't change.  We attribute this to the combination of our software, our people, and our infrastructure. In this article, we'll discuss how LuxSci utilizes Rackspace and how our software and support solutions are complemented and enhanced by Rackspace's reliability, security, and support.
Rackspace Overview
Rackspace, like LuxSci, is a "premium" provider.  This means that although there are many places offering much cheaper dedicated servers and cloud services; we pay a premium for our Rackspace so that we can get the well vetted hardware, exceptional infrastructure, and Fanatical support that comes along with it.  Our users benefit from that synergy — it makes LuxSci's services that much better.  Rackspace has three data centers in the USA, two in the United Kingdom, one in Hong Kong, and one in Sydney; LuxSci can setup servers for clients in any of these locations.
The following sections discuss the very impressive features of the Rackspace data centers that are a part of LuxSci's infrastructure.
Data Center Physical Security
The data centers only house dedicated servers and cloud services; there is no support for "co-location".  This means that only authorized Rackspace technicians can ever enter the data centers and gain physical access to the servers.  Rackspace clients, even LuxSci staff, cannot get anywhere near the servers themselves, physically (without special dispensation and escort).  This is a good thing.
Always Watching: The data center access is monitored by round-the-clock interior and exterior surveillance.
Biometrics: Access is granted through key card and biometric scanning protocols
Authorization: Only authorized personnel are granted access credentials to the data centers.  Any other visitor must have prior clearance and and an appropriate escort.
Security Checks: All data center employees undergo multiple background security checks.
24/7: Data centers are manned 24/7 to provide additional protection.
Low profile: Data centers facilities are unmarked so as to maintain a low profile.
Audited: Physical security measures are audited by independent firms.
System Security:
ISO27002 (formerly ISO17799); ISO 27001; SSAE16; SOC 1; SOC 2; SOC 3; Safe Harbor; CPS.  Read about these.
Rackspace is also SysInst certified
All employees are trained on documented privacy and information security policies
Only authorized personnel have access to confidential information.
Access to systems is logged and tracked for auditing purposes
Policies are in place for the destruction of all sensitive documents
Independently audited disaster recovery and business continuity plans are in place at Rackspace headquarters and support services.
Data Center Precision Environment
HVAC: The HVAC (Heating Ventilation Air Conditioning) system is N+1 redundant; this enables duplicate systems to take over should there be an HVAC system failure.
Clear Air:  All the air in the data center is circulated and filtered to remove dust and contaminants every 90 seconds.
Fire Suppression: Advanced fire suppression systems are in place to stop fires from spreading in the unlikely event one should occur.
Nice and neat:  Cables are securely tied down with cable racks suspended from ceilings, providing dual routes for all cables.
Data Center Conditioned Power
UPS: Every server is attached to conditioned UPS (Uninterruptible Power Supply) power so that, should a total utility power outage ever occur, all of the data center equipment will continue to run.
Redundant UPS: The UPS power subsystem is N+1 redundant; this provides instantaneous failover if the primary UPS fails.
Generators: In the event of an extended utility power outage, routinely tested, on-site diesel generators can run indefinitely.  (We have seen this happen and it works).
The Network Infrastructure – 100% uptime
In addition to excellent physical security and data center planning, the network environment is so good, that Rackspace guarantees 100% network uptime.  How do they do this and what does it mean?
The network is used exclusively for customers.  Bandwidth is never shared with other organizations, such as telecommunications companies, which could deplete available resources.
The only bandwidth used is high performance bandwidth; this is not usually the case with bargain providers.
Nine separate network providers including A

bovenet, AT&T, MCI, Quest, Sprint, and SBC,

are used to ensure multiple redundancies in the flow of information to and from the data centers.
Every fiber carrier must enter the data center at a separate point; this protects against complete service failure in the unlikely event of a network cut.
Rackspace uses a Proactive Network Management methodology which constantly monitors the route efficiency and end-user performance.  It automatically adjusts the network topology and configuration in real-time to provide the most reliable and fastest network possible.
The network is intentionally underutilized so that it can be resilient to large spikes in traffic and routing issues.  Typically, the network operates at a 40% threshold, leaving 60% headroom for traffic bursts.  Most companies operate at an 80% threshold, leaving much less room for bursts.
The network does not have any single point of failure.
Routing equipment is located in a separate secured core routing room which is fed by its own redundant power supply.
All networking and security teams working in the data centers are required to be certified. They are also required to be thoroughly experienced in managing and monitoring enterprise level networks.
Indeed … it is not hype.  This network is always fast and always reliable.  You really do pay for the bandwidth that you get.
The "Rackers"
The Rackspace support technicians call themselves "Rackers".  Rackspace is different in that its support technicians are certified and extensively knowledgeable. On any particular shift on any day of the year, there will be experts available in areas like:
Linux Kernel Recompilation and Tweaking

Apache / PHP Configuration Changes

Network Device Management

SAN (Storage Area Network) management

CISSP's for managing Firewall and IDS (Intrusion Detection) appliances

Apache Troubleshooting

Microsoft IIS Troubleshooting

DNS Configuration

MySQL (Windows and Linux) Installation and Troubleshooting

Network and computer forensics
These people really exist and we really can talk to them if/when needed 24/7.  LuxSci has a great deal of experience in the areas we focus on:  security, email, hosting, sever administration, etc. However, there can always be a situation that arises that is new or requires very specialized knowledge in a particular area.  The fact that we can pick up a phone at any time and have Rackers jump on an issue to help us get it resolved ASAP is invaluable. Like LuxSci, Rackspace emphasizes fast and quality technical support.  They even guarantee it to LuxSci.
We do not need their help very often, but we do consider them to be an extension of our IT team; our network and server support team can grow in size instantly if there is a serious issue, such as a denial of service attack, network routing problems, etc.  This is why we partner with Rackspace.  This is part of what makes your LuxSci experience so smooth.
LuxSci and Rackspace
So, how does this all fit in with LuxSci, exactly?
LuxSci leases all of its new production servers from Rackspace to take advantage of their excellent infrastructure, service level agreements, and customer support.  We use our expertise to select server configurations appropriate for the operation of LuxSci's infrastructure and to direct Rackspace in the appropriate setup and monitoring of this installation.  LuxSci uses its own custom server monitoring and maintenance software in parallel with Rackspace's monitors to provide redundant and independent server and network health checking.  We work directly with Rackspace technicians to diagnose and resolve any hardware or network issue that may arise — like us, they are available 24/7 for any emergency situation that may arise.  LuxSci develops, installs, and manages all of the software on the servers and provides all support to its customers.
Rackspace is also a HIPAA Business Associate of LuxSci's.  This means that Rackspace ensure the security and privacy of any ePHI that they may come into contact with through their support of us and provisioning of services to us.  This is required by the HIPAA Omnibus of any business partner of ours that may encounter customer PHI.
The net effect is a very efficient and cost effective partnership that yields very fast and reliable web and email services through LuxSci's feature rich and evolving software.
Rackspace Interview
To round out this article, we asked Rackspace some leading questions on these topics to get their own viewpoint on the industry.
What is Rackspace's commitment/policy in terms of providing quality and timely phone and ticket support?
Rackspace Hosting has an unmatched Service Level Agreement within the industry. This is what sets us apart from the rest. Fanatical Support is something Rackspace takes very seriously. It's our drive to do more than what our industry-leading contracts, Service Level Agreements and guarantees say we will. This level of support means that service will be provided by a support team that will be available to you 24x7x365 and will be accessible to you by phone or ticket at all times.
What do you think separates Rackspace from its major competition?
We are the World's Leader in Hosting. All we do is hosting. We deliver a portfolio of solutions such as Managed Hosting, and Cloud Hosting, each with a diverse mix or products. Rackspace is a service organization that values customers and is dedicated to being a committed service provider. We genuinely care about our customers and helping them accomplish their goals through IT hosting. Fanatical Support separates Rackspace from its competition. It's our drive to make a difference every day to our customers that makes us who we are.
What separates Rackspace from the "cheap" dedicated server providers?
Rackspace offers a more advanced type of hosting, with extended support and management delivering system-level administration and support, comprehensive Internet infrastructure and extensive services that relieve IT departments of many critical, but expensive responsibilities. Customers using a dedicated hosting solution require an overall competency in IT and server administration issues. It also requires a more significant investment of finances, time and human resources than Managed Hosting.
Rackspace has some services, which at some level compete directly with LuxSci. What is Rackspace's policy in terms of guaranteed pricing, service, and support of customers, like LuxSci, who may be competing with Rackspace's own offerings?
Rackspace does not make any distinctions when supporting our customers, even if they are a direct or indirect competitor. As long as you are a customer of Rackspace you will receive Fanatical Support 24x7x365. Our driving purpose is to take care of your business, to make sure things go as smoothly as possible.
As an aside, LuxSci has a special agreement with Rackspace that guarantees that we will always receive their Fanatical Support to our satisfaction, no matter what.  If they somehow fail, we can freely break all of our contracts and commitments with them with no notice or penalty.
So why not just get a dedicated server from Rackspace directly? If you want to install and run  your own software and have the time and expertise to administer the server and manage the software, security, and upgrades yourself, then that may be an option to consider.  The value-add of using LuxSci's proven-reliable, premium turn-key email and/or web services, backed by LuxSci support, may lead you to hosting on a shared LuxSci server, or to one or more dedicated or cloud servers managed by LuxSci.