February 9th, 2009
Receive Secure Emails from Anyone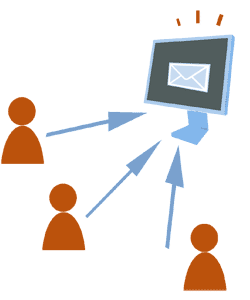 Guaranteeing that information sent via email remains confidential can be a tricky business. Whether you're in health care governed by HIPAA, education, or commerce, your customers and correspondents must be able to quickly and easily send your messages and attachments securely — no matter what email service they may have.
Solution?
With the LuxSci's SecureLine SecureSend Portal, anyone with an email address can easily send any LuxSci SecureLine user secure emails for free.
With the SecureSend Portal you can:
Receive secure emails from anyone
Receive secure attachments
Reply securely
Do this all at no cost to the sender
What is SecureLine SecureSend?
SecureLine SecureSend is a way that anyone can send secure emails to LuxSci SecureLine users. In this way, it complements the SecureLine Escrow service. With both of these services, you can send and receive protected emails to and from anyone.
Who can send these emails?
Anyone with an email address can send through the SecureSend Portal. The portal requires one-time easy registration by the sender to verify their email address, but is otherwise open to anyone. Finally, the sender must know your email address in order to send you a message.
Does this cost a lot?
Having emails sent to you through the SecureSend Portal does not cost anything beyond the base price for SecureLine services. The service is free to the sender.
What is the learning curve?
Using the SecureSend Portal is easy. Using a simple WebMail interface, the Portal prompts for registration the first time, after which the sender is able send secure emails anytime. Experience using email before helps, but the system is intuitive enough even for newcomers.
How does SecureLine SecureSend work?
Step 1

The first time a sender uses the SecureSend Portal, there is a quick registration process.
The sender is asked to provide an email address, a password, and a secret question-answer pair.
The sender then receives an email with a link to confirm the account.
Step 2

Once registered, the sender can log in to the Portal and start writing.
The sender can select a previously used address or enter a new one. The email can have rich text and/or attachments.
The message is automatically encrypted for LuxSci user receiving the email.
The LuxSci user receives the email and is able to reply securely.
What Else?
SecureSend can be private labeled so that it uses your own organizations domain names, colors, and logos.
SecureSend senders can send messages with attachments up to 20 MB in size.  In the near future, this is being raised to 50 MB.
Because you can reply back to the senders and they can reply to your replies, you get a secure way to hold a conversation via email where all of the messages in question are encrypted.
Messages sent via SecureSend are compatible with our basic and premium email archival services as well — so you can be sure to keep permanent records of them if needed.
You can limit receipt of SecureSend messages from certain people that becomes a problem.
How to get started?
All you need to get started is a LuxSci account with a SecureLine license (see quotes and orders).  Then, people can go to the SecureSend portal, http://securesend.luxsci.com (or your own vanity domain name) to send you a secure message.
Similar Posts: